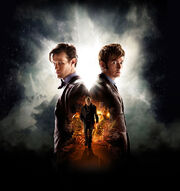 Wholock when Sherlock meets Doctor Who
Cyberlog EF45
Edit
Name : Christophe Pantel
Birth : 23 November ( not 1963 )
Age : Unknown ( possibly 1200 )
Nationality : French ( or Kaled )
Love : Comics, Video Games, Doctor Who and Star Wars.
Forum visited : Doctor Who Toys ( knows as DoctorDalek2311 ) , Star Wars Universe ( knows as Rebel Scum ), Fanderson ( knows as ThunderWho ) and Frenchnerd Fan ( knows as VisiteurWho )
Fan fictions : Doctor Who Prisonners Of Omega, Doctor Who Adventures In Time And Space, The Twelve Hour, Star Wars Edge of The Empire.
Fan Videos : Coming Soon
Me and the Doctor
Edit
It's been a long time, I 've met the Doctor
When I was eleven my father told me there was a program called
DOCTOR WHO, a spacy timey series that could be cool.
I watched The Eleventh Hour and...
WTF, this series was the best thing I ever seen.
After I watched another and then another.
And now I am the bigest French Doctor Who Fan.