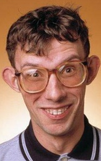 Mr Safety was an alt account made by members The Oncoming Storm and goombaartist during Spring 2010.
One evening, an account appeared in the Welcome section calling itself Mr Safety and claiming to be a man obsessed with Health and Safety, and traffic cones. In truth, the account was a collaboration between The Oncoming Storm and goombaartist, both then relatively new members. The account made a series of jokey posts about how certain threads were not safe and advocated the immediate use of traffic cones and other such restrictive equipment. At one point, an enemy for Mr Safety appeared, who turned members "into traffic cones." This required members to update their signatures announcing they had been transformed into the cones. Many members took it as harmless fun, however both members received a stark warning from moderators for spamming. The account was banned and all posts purged, and both received a warning.
After Mr Safety
Edit
Due to the large volume of members who experienced the character that are no longer around, combined with the loss of the posts, the entire evening has been largely forgotten. Goombaartist left the forum.