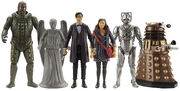 In October 2012, Character Options announced that all new series action figures will be made in the 3.75" scale, instead of the 5" scale collectors had grown to know and love. This section is a guide to these figures giving you a look at what has been released and what is going to be.
The first impressions upon the scale change were mixed. Some people were happy about how they could interact the characters with different ranges, and some were annoyed at the change saying the figures would look stupid in their collections along side the 5" ones.
However, since their release in May 2013, they have done amazingly well.
These figures cost £6.99 and the playsets £9.99 - £12.99.
6 Figures were released in wave one. They include;
The Doctor
This figure was originally slated by collectors due to it's lack of resemblance to Matt Smith, however, many who originally said this, have now complimented this figure, saying, it's good for it's size. A rare version with a darker waistcoat and bow tie is also available.[1]
Clara 
This figure is praised for being one of the strongest of the wave, having a very close resemblance to Jenna-Louise Coleman. A rare version of clara wearing a red dress is also available. [2]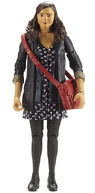 Cyberman
Again, this too is praised for being a very strong figure in the line up. A rare version with a blue chest piece and a gun arm is also available.[3]
Ice Warrior
Yet another one of the stronger figures of the line up. An unarmoured version is available with the Cold War timezone set.
Dalek 
This figure is praised for being so much more detailed than it's 5" predecessor even if it is 1 1/4 inches smaller. A black rare version is also available. [4]
Weeping Angel
This figure is quite possibly the worst in the wave as it is often slated due to it's lack of possibility. A rare 'looped' version is also availble.[5]
Time Zones and Other Playsets

Edit
Since the release of the 3.75" Action figures, Character have released two 'Timezone' Playsets to 
go along side the figures as display stands or mini dioramas which retail at £9.99. They have also released a Spin and Fly TARDIS which retails at £12.99
The timezone packaging confirms that a Hide timezone and a timezone from The Angels Take Manhattan are coming out soon.
Each timezone comes with an exclusive figure or accessory. 
Here is a table of playsets that are available or are coming soon.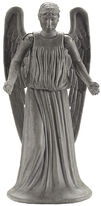 | Playset | Price/Availability | Exclusive Accessory | Picture |
| --- | --- | --- | --- |
| Dalek Timezone | £9.99 - Out Now | Dalek Hoverbout | |
| Cold War Timezone | £9.99 - Out Now | Un-Armoured Ice Warrior | |
| Hide Timezone | £9.99 - Out Soon | Crooked Man | |
| The Angels Take Manhattan Timezone | £9.99 - Out Soon | Cherub | |
| Spin and Fly TARDIS | £12.99 - Out Now | N/A | |
| 2013 TARDIS Playset | Rumoured  | N/A | N/A |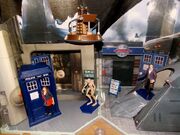 Each timezone can be connected together to form one giant playset in which a 
Spin and Fly TARDIS can be placed in the middle and spun to different timezones to signify space and time travel.
References

Edit
Community content is available under
CC-BY-SA
unless otherwise noted.